State Legislative News




House Bills
Karen O testimony HB 1545 2018-03March-02
Maryland HB 538 SB 651 Testimony
Senate Bill Testimony
Maryland SB 818 HB 1235 Testimony
Proposed State Legislation
There are 9 bills now before the Maryland General Assembly this year that affect the Child Nutrition Programs. If the proposed legislation on the chart below will affect your county, please consider letting your Maryland delegates and senators know of the impact of the proposal. You can do that in one of two ways. You can either send written testimony to Marla LeTourneau (mletourneau@aacps.org) prior to the hearing date or testifying in Annapolis in person on the scheduled date listed on the chart.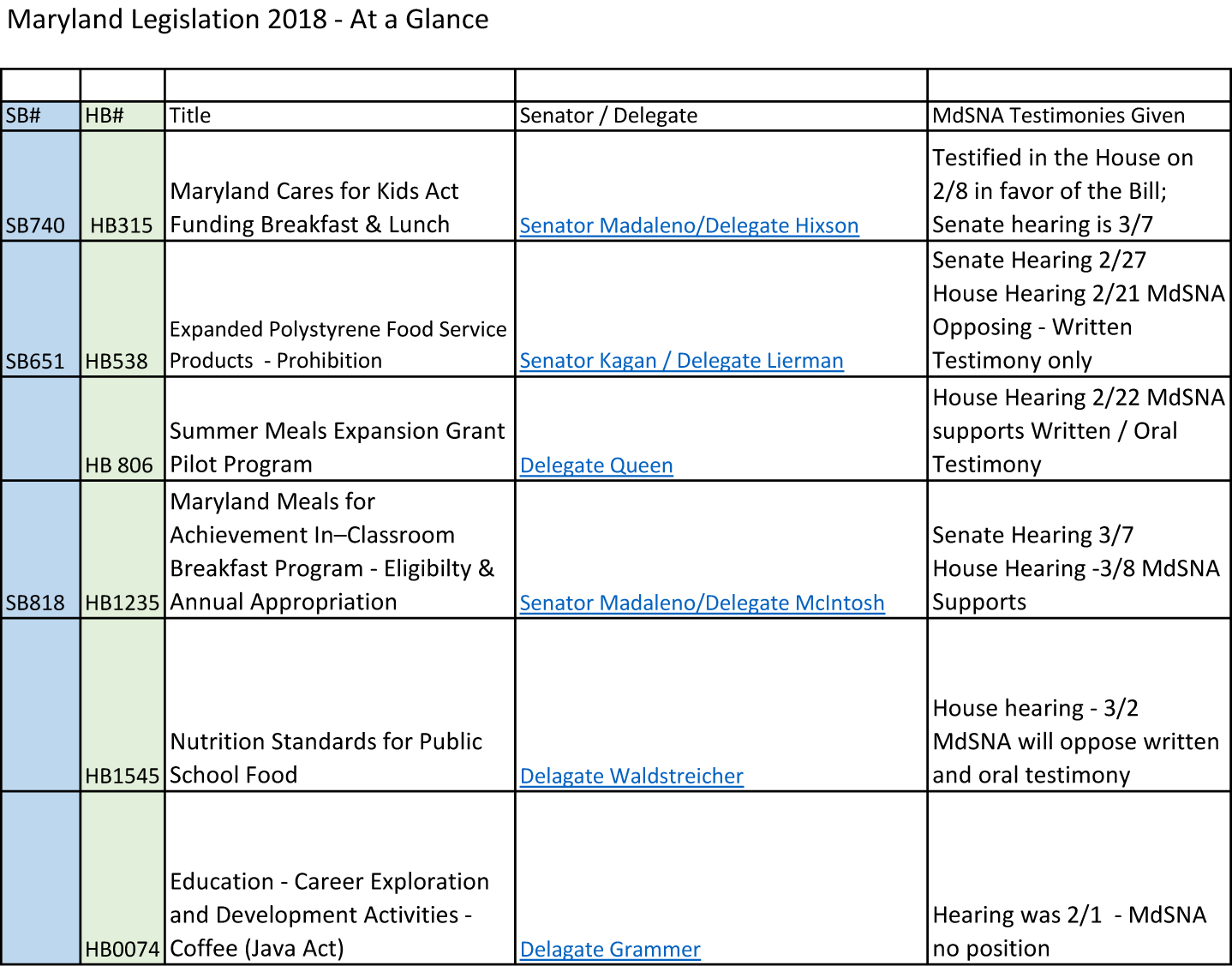 Click here for easy quick-links to email addresses shown in chart above.
Smart Snacks/Competitive Foods Policies
On July 29, USDA released the Final Rule on All Foods Sold in Schools as required by the Healthy, Hunger-Free Kids Act of 2010. This rule governs the sale of all foods sold outside the National School Lunch and Breakfast Programs and is often called "competitive foods." These include food and beverage sold as a la carte items, in vending machines, in school stores, and other mechanisms that involve the exchange of money for a food item. The Final Rule does allow each state to set a separate policy that can allow for the infrequent school-sponsored fundraisers that do not meet the nutrition standards. If a state does not set a policy, it defaults to zero exemptions which means that all fundraisers during the school day must meet the Smart Snacks Standards.
Click chart below to see entire article:
SNA prepared a report on the states' policies including the number of exemptions and policies governing the length and time of each fundraiser.
SNA Updated State Meal Mandates and Reimbursement Rates Summary Available
2017-06-15
SNA has updated its State Meal Mandates and Reimbursement Rates Summary annual report for School Year 2016-17, which is a comprehensive summary of each state's mandates and financial support accompanied with a comprehensive reference table.
The National School Lunch Program (NSLP) and School Breakfast Program (SBP) are federally funded by the U.S. Department of Agriculture (USDA). The purpose of the school nutrition programs is to provide nutritionally balanced, low-cost or free meals to children each school day. Each year, the USDA sets rates to cover the cost of free and reduced meals, as well as partial support for paid meals.
In addition, each state is also required to provide a certain matching amount based on a rate set in the 1980's. Many states provide additional reimbursement on top of the matching requirement, which can range from per meal reimbursements, to salary support, to general funds which assist with program operations. It is up to each state if participation in these programs is optional or mandated, and there is variability among states. SNA government affairs staff collected the updated information from state agencies across the country.